Connecting to CTERA Portal
28 Apr 2022

1 Minute to read
Connecting to CTERA Portal
Updated on 28 Apr 2022

1 Minute to read
---
Share feedback
Thanks for sharing your feedback!
Users logging on to a PC running a CTERA Agent, with CAC, Common Access Card, are automatically and transparently authenticated to the CTERA Portal. Single sign-on (SSO) to the CTERA Portal must be defined in Microsoft Active Directory, using the Kerberos protocol. For details, see the portal administrator guide. When validating the portal certificate, certificate revocation checking is performed using CAPI/OSB revocation checks.
To connect to a CTERA Portal:
Click the CTERA Agent tray icon in the taskbar.
The Welcome to CTERA Agent window is displayed.
Note: If the CTERA Agent tray icon is hidden, click the up-arrow in the notification area of the taskbar to display hidden icons.
Enter the portal's DNS name or IP address.
Alternatively, if you want to configure CTERA Agent to connect to the portal via a proxy:

Click Advanced.
In the Advanced window, configure the proxy settings. For details, see Setting Up Connection Via a Web Proxy.

Click Continue.
The sign-in window is displayed.

Enter your username and password for accessing the portal and click Sign in.
The CTERA Agent tray icon changes to

and the CTERA Agent screen is displayed. Also, a shortcut to the Cloud Drive folder is created automatically on your desktop.
If you are subscribed to the cloud backup and cloud drive services, a backup folder is automatically created for this agent on the CTERA Portal.
The CTERA Agent screen is displayed.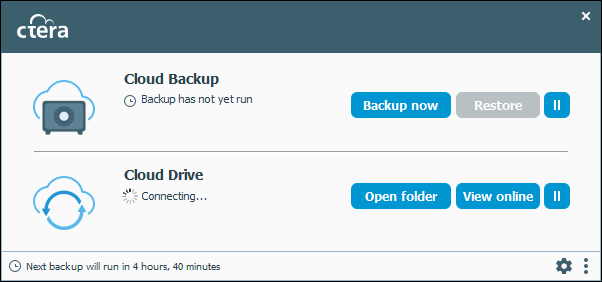 ---
Was this article helpful?
---
What's Next