End User Guide
24 Jan 2023

2 Minutes to read
End User Guide
Updated on 24 Jan 2023

2 Minutes to read
---
Displaying Edge Filer Content in a File Manager
You can map the edge filer content in a file manager, Windows Explorer or macOS Finder, and end users can the access their data in a familiar way.
To view the edge filer content from a file manager:
Use the following address to access the folders and files from a file manager, for example, Windows File Explorer or macOS Finder: \\edge_filer_ip\cloud where edge_filer_ip is the IP address of the CTERA Edge Filer.
When accessing the CTERA Edge Filer from a macOS machine you need to follow the procedure in Accessing an Edge Filer From macOS.
The following screenshot shows an edge filer accessed from Windows File Explorer.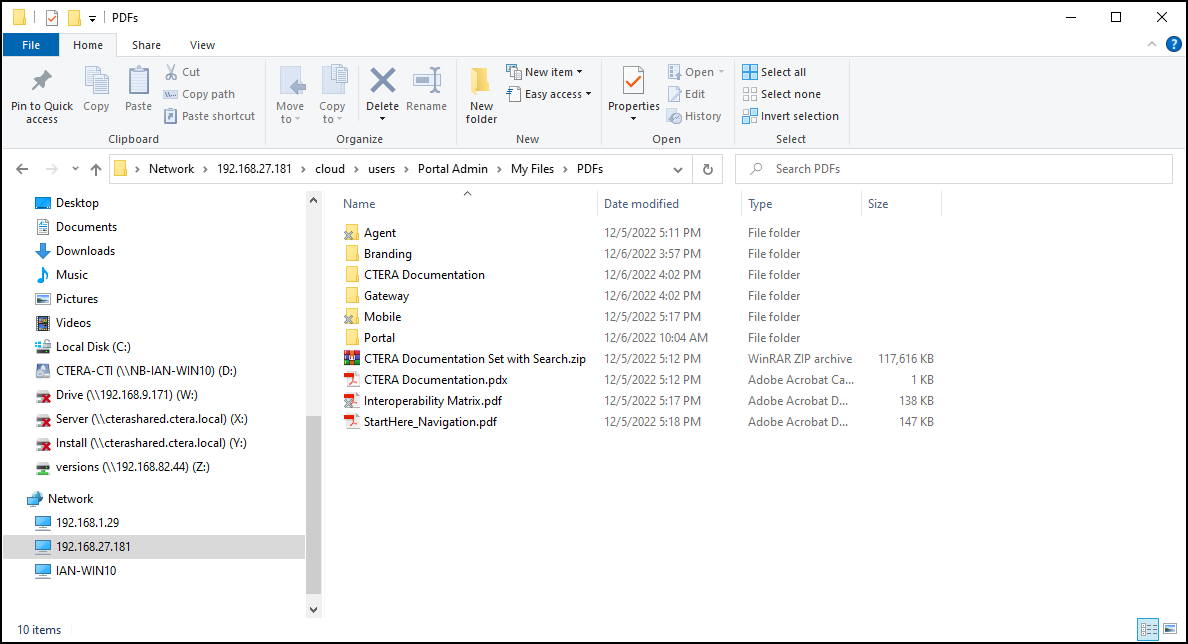 Both Windows File Explorer and macOS Finder report that the total space and available free space for the mapped drive is a very high number to simulate the caching ability of infinite storage.
Note
The CTERA Edge Filer usererface is case sensitive, so file and folder names with the same characters, but different cases, such as MYFOLDER, MyFolder and myfolder are different folders. When connecting to the CTERA Edge Filer using Windows File Sharing, SMB protocol, which is not case-sensitive, these folders or files are treated as having the same name.
Overlay Icons Used in the File Manager
When viewing the cloud drive content, folders and files are marked with icons indicating the current status:
macOS:

– Folders or files that are not stubs as they are saved locally.


– Files that are currently synchronizing betwen the CTERA Edge Filer and CTERA Portal.


– Files that are stubs. The main storage is on the CTERA Portal in the cloud with stubs saved on the CTERA Edge Filer. A stub is a file with a tiny footprint that contains the metadata about the file, such as the file name, size, and modification date. Only the folder and file metadata and not the actual file content is saved locally. This results in the cost of storage being significantly lower. Also, systems with many file changes, where only some of the files are required locally, don't over use bandwidth between the cloud and CTERA Edge Filer. Only the required files are passed across the wire.
When a user accesses a file stub, the file is downloaded and opened without delay, and where possible, large files are streamed from the cloud so they can be accessed faster. After the download has completed, the file is unstubbed. Any changes to the file are synced back to the CTERA Portal.
Versions
A new version of a file is saved every time the file is edited, and not just dailt. You can access a previous version using the file manager previous versions.
In Windows Explorer: Right-click the file and choose Properties from the menu. In the Properties window that is displayed, choose the Previous Versions tab to list all the versions.
In macOS Finder: Open the file and then, from the menu bar, choose File > Revert To > Browse All Versions to list all the versions.
---
Was this article helpful?
---
What's Next