Installing the CTERA Agent
05 Jul 2023

2 Minutes to read
Installing the CTERA Agent
Updated on 05 Jul 2023

2 Minutes to read
---
Share feedback
Thanks for sharing your feedback!
The CTERA Agent can be installed manually or deployed remotely from a centralized location. The following procedure explains how to install the CTERA Agent manually.
To install CTERA Agent:
1. Double-click the CTERA Agent installation file. The CTERA Agent Setup Wizard opens.
2. Select one of the following:
Agent per User – The Agent is installed separately for each user the first time the user logs in to the computer.
Each user has an independent Agent configuration, and can connect to a different CTERA Portal than the other users.
Each user has permission to manage their own Agent and can perform backup and restore operations for any files for which they have read/write permissions.
Each user's Agent remains connected to the cloud and continues to perform its scheduled backups and synchronizations in the background, even when the user is not logged in.
Each user will have their own cache, not shared with other users, when the agent is configured as a Caching Agent.
Note: Since each user has an independent agent, the agents are displayed as separate agent objects when connected to a portal. Each user is licensed separately.
Shared Agent for all Users – A single Agent configuration can be shared by all users of the computer. Only users who have Backup Operator permission can configure the agent and perform backup and restore operations.
3. Click Next.
4. Read and agree to the End User License Agreement and then continue to click Next and enter relevant information until the installation starts.
5. When the installation is complete, click Close.

icon is installed in the Windows taskbar. The Welcome to CTERA Agent window is displayed.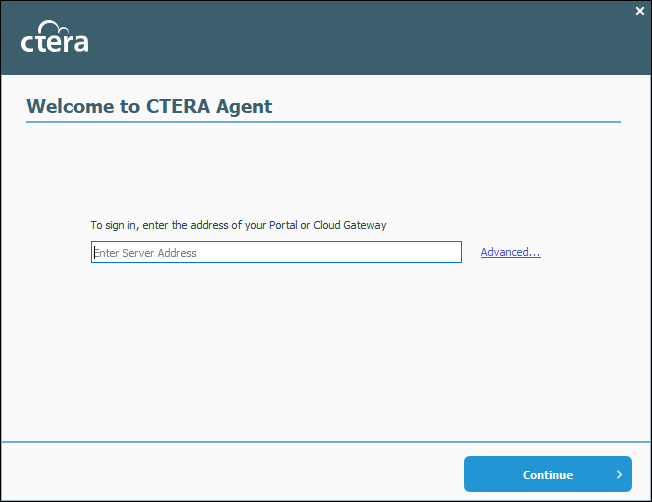 6. Enter the portal IP address.
7. Click Continue.
The CTERA Agent connects to the portal.
The window to specify the username and password is displayed.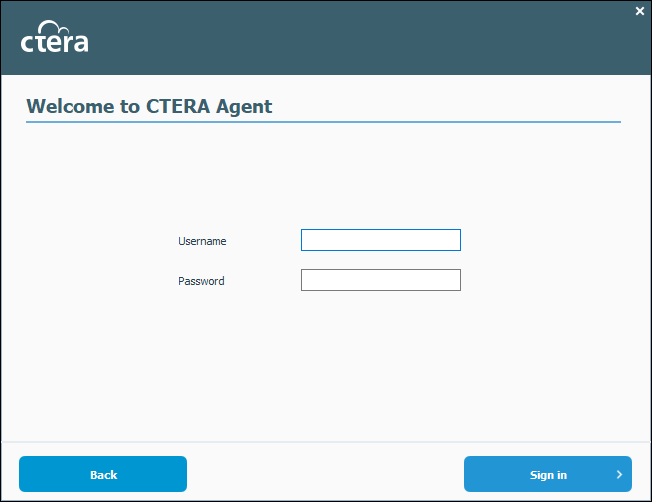 8. In the Username and Password fields, type your user name and password for accessing the portal web interface, and click Sign in.
The CTERA Agent connects to the portal.
The CTERA Agent icon changes to

The CTERA Agent maps a local drive on the desktop to the portal.
Once connection and mapping are completed successfully, the CTERA Agent window displays the Cloud Drive's status as Connected.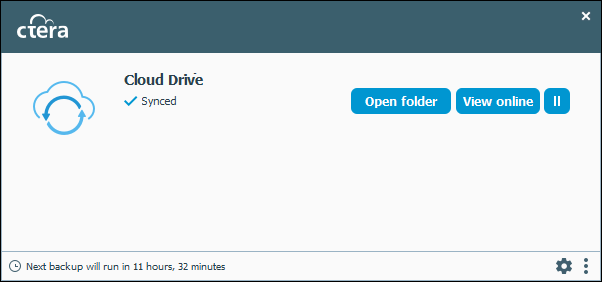 Note: The agent uses HTTPS, port 443, to map the local drive to the portal. TCP port 443, outbound, must to be accessible on the portal.



If it is not accessible, the Cloud Drive's status is Not connected to Portal. Also, the security certificate installed on the portal must be trusted by the PC. If it is not trusted, the Cloud Drive's status will be Not connected to Portal.995 TCP, outbound, is also required. This is a management connection the agent maintains with the portal. Refer to Mapping Cloud Drive Folders for details about mapping different drive letters to different folders.
---
Was this article helpful?
---
What's Next