Introduction to CTERA Insight
03 May 2022

1 Minute to read
Introduction to CTERA Insight
Updated on 03 May 2022

1 Minute to read
---
Share feedback
Thanks for sharing your feedback!
CTERA Insight Architecture
CTERA Insight requires Docker containers to be installed on each CTERA Portal server at the customer site as well as a proxy server. KPIs and metrics are passed from the CTERA Portal servers via the proxy server to CTERA Insight where the logs are analyzed and the results of the analysis displayed in a central Web-based interface.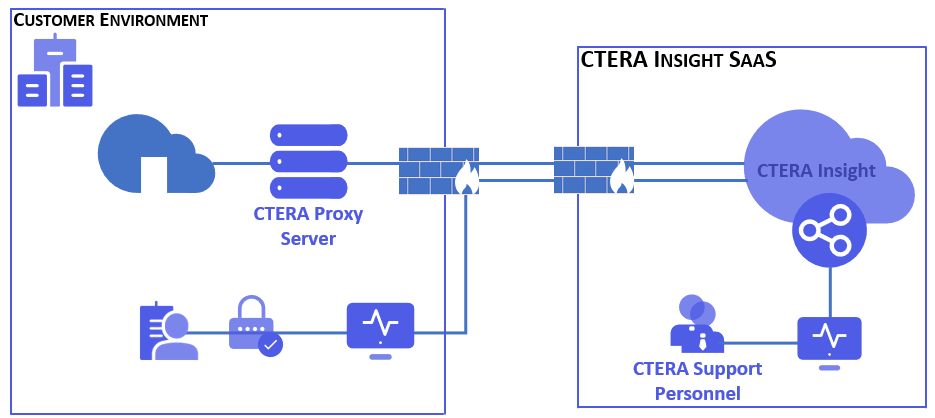 You can only install the proxy server if you are running the following versions of CTERA products:
CTERA Portal version 6.1.1170.8 or higher
CTERA Edge Filer version 7.0.1282.20 or higher
CTERA Insight Security
Data is valuable, and cyber attacks are increasing with thousands of websites hacked every day.
Many businesses do not want to risk their data being exploited by outside sources and do not want to trust their data security to the cloud. However, data stored on-premise and not in the cloud is not necessarily more secure. 60% of all cyber attacks are carried out by company insiders, with 75% of these attacks done with the intent of harming the business and only 25% done by mistakes.
CTERA Networks was founded by seasoned veterans of the network security industry, who employed their extensive experience and knowledge of network security to provide end-to-end security both for data moving to the cloud and while at rest in the cloud. Storing data in the cloud using CTERA Networks can be more secure than storing the same data on-premise. Cyber attacks by insiders becomes harder as the insider has no access to the servers in the cloud.
To ensure the safety of client data, CTERA Networks offers military-grade security solutions at every level, including infrastructure security, network security, and application security, to counter threats both internal and external.
Data-at-rest – Tenant Isolation
Tenants are completely separated and have access to their information from CTERA Insight by a unique username and password.
Data-in-Transit
To protect against man-in-the-middle attacks, CTERA Insight uses a 2048 bit X.509 TLS certificate. This certificate must be signed by one of a number of well-known certificate authorities. SHA-2 (also known as SHA-256) certificates are fully supported.
---
Was this article helpful?
---
What's Next