Setting Up Cloud Backup
25 Apr 2022

2 Minutes to read
Setting Up Cloud Backup
Updated on 25 Apr 2022

2 Minutes to read
---
Share feedback
Thanks for sharing your feedback!
The final steps after replacing an existing computer with a CTERA Agent, or setting up another computer with a CTERA Agent is to set up the cloud backup.
The Set Up Your Cloud Backup window is displayed.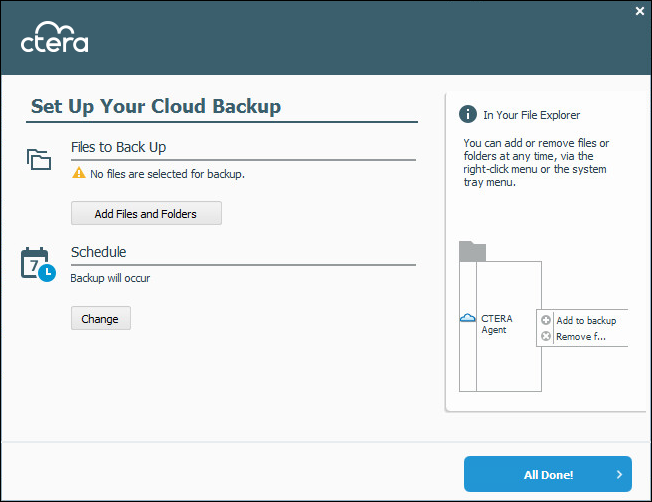 Note: The setup options displayed in the Set Up Your Cloud Backup window are dependent on the services to which you are subscribed.
Optionally, click Add Files and Folders to add files to be backed up to the cloud:
The Files to backup window is displayed.


Select the files you want to restore:

To select specific folders, expand the folder tree in the left pane, then make sure only the folders you want are checked.
Folders which include content to backup are indicated with the icon.
To select individual files in a folder, select the folder in the left pane, and then select the individual files in the right pane.
Note: You can create a new folder and restore files to the new folder. You can also restore backups that require a user password.

Click Save.

Optionally, in the Schedule area click Change to override portal settings and configure a schedule for automatic cloud backup.
The Backup Schedule window is displayed.


Complete the Backup Schedule fields.
Periodically – Specify that automatic backups are performed every specified number of hours. The maximum period between periodically scheduled backups is 24 hours.

Start Every – Specify the interval between backups, in hours.

Specific Time – Specify that automatic backups are performed at a specified hour on one or more specified days.

Start Time – The hour at which backups start.
Stop Time – Either on completion of the backup or at a specific time, after which the backup is stopped even if it hasn't completed.
On Days – The days backups occur. Click Every Day to specify every day.

If a Windows Server has Microsoft SQL Server installed, you can schedule the recovery point objective (RPO) for SQL Server:

Transaction Log Backup – SQL Server supports transaction log backups. The delta changes are written to a transaction log, enabling the database or instance to be restored to a specific point in time when a transaction log exists.

Start Every – The period of time between each delta backup.

Note: These fields are not displayed if Microsoft SQL Server is not installed.
It is recommended to schedule a full backup not more than once every 24 hours and use the transaction log to back up incremental changes.

Click Save.

When setup is complete, click All Done!
---
Was this article helpful?
---
What's Next