Setting Up the CTERA Messaging Service
02 Aug 2022

2 Minutes to read
Setting Up the CTERA Messaging Service
Updated on 02 Aug 2022

2 Minutes to read
---
Share feedback
Thanks for sharing your feedback!
To set up the CTERA Messaging Service:
In the global administration view, select Services > Messaging in the navigation pane.
The MESSAGING SERVICE page is displayed.

To add a new messaging server, click Add Messaging Servers.
The Messaging Service window is displayed, showing all the CTERA Portal Servers.

Check the servers you want to use as messaging servers.
In a production environment, you must select three servers to be messaging servers. CTERA allows a single messaging server in a small or test environment where the main database server is the only server. Otherwise you should assign three, and only three, servers as messaging servers.

Note

Unless the main database server is the only server, if you try to check the main database server, the replication server, or a preview server, a message is displayed.


Click SAVE.

Note

If you only selected one server to be a messaging server, the following warning is displayed.


The selected servers are added as messaging servers.

Deploying the server as a messaging server takes a few minutes, until the messaging server is deployed, after which it starts.

After the messaging server starts running, the status changes to ACTIVE.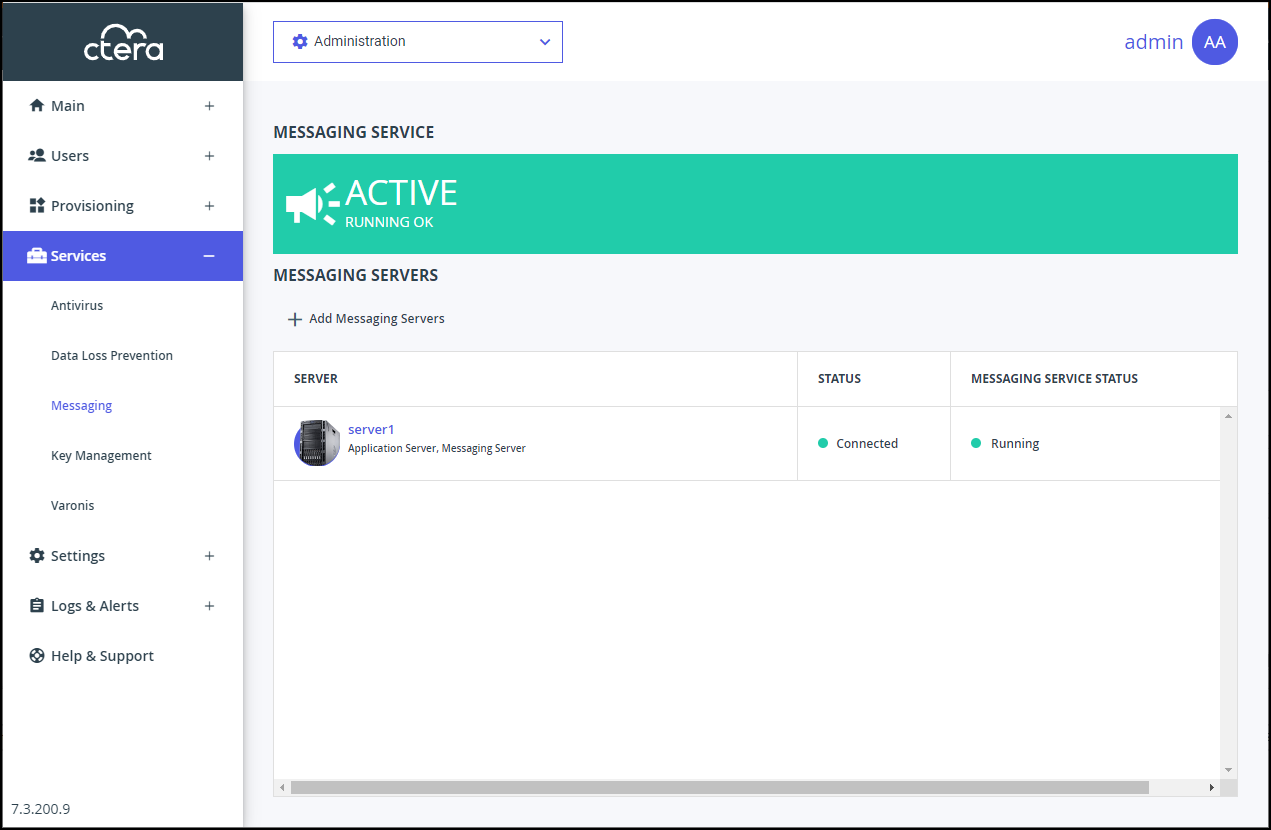 Note
The process of deploying and starting the messaging service takes a few minutes. You cannot start to configure any other service that requires the messaging service, such as Varonis, until the messaging service is running.
Clicking a server displays the server window with the server name as the window title. The Messaging Server box is checked.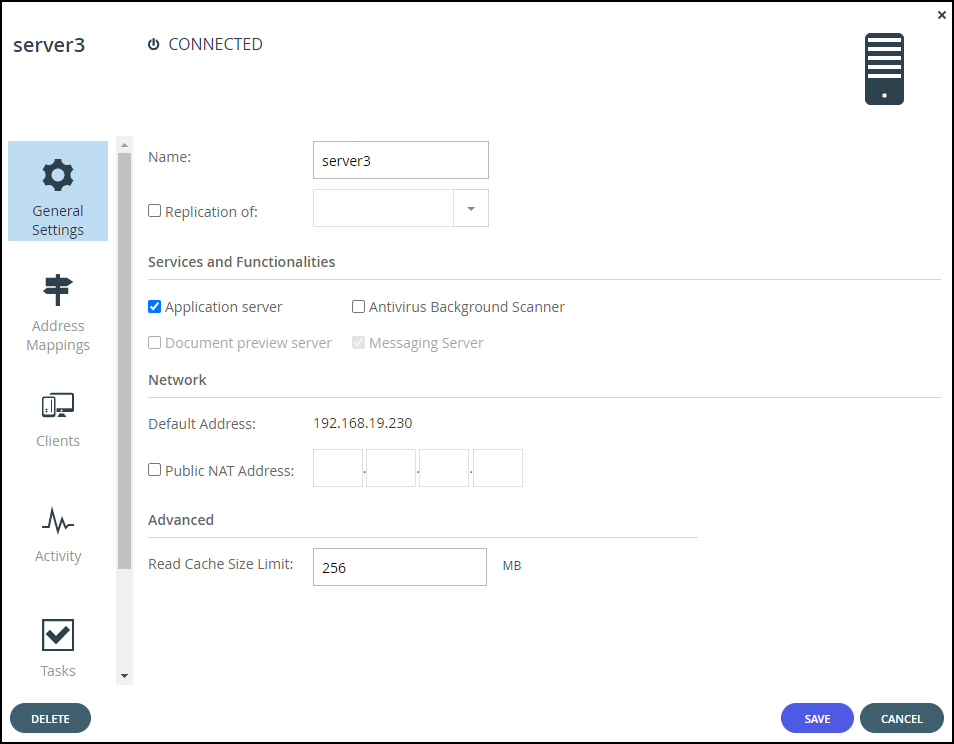 You cannot uncheck this service.
Messaging Service Statuses
The messaging service is in one of the following statuses:
NO SERVERS: No messaging servers available – No servers have been defined as messaging servers.
DEPLOYING: Deploying messaging service – The servers defined as messaging servers are being deployed. This status is displayed after defining messaging servers and takes a few minutes for the service to be deployed on the servers.
STARTING: Collecting messaging service status – After the messaging service has been deployed, the portal starts to gather information before the service becomes active.
ACTIVE: Running OK – The messaging service is up and running.
WARNING: Something wrong with some of the servers – At least one messaging server is working but one or more messaging servers have problems. The messaging service is still running but the problematic messaging servers need attention.
ERROR: Messaging service has failed – The messaging service is not working.
ERROR: Couldn't fetch messaging service status – The collection of the messaging service status failed.
---
Was this article helpful?
---
What's Next